I have seen a lot of dress jackets made out of jersey knit fabric lately - like the Diane von Furstenberg one above - and I am loving this concept. Especially since I am trying to put together a wardrobe, especially for the office, that works for me. The reasons knit jackets are wonderful are many:
-They are machine washable (hallelujah!)
-If ever there was a dress jacket that is comfortable to wear, this is it.
-They are not too dressy - which I love. My office is fairly casual, and a dress jacket just seems like too much.
-There are lots of fun knit fabrics out there to add a little personality to your jacket.
All in all, I am dying to try my hands at making one. I have briefly looked online to see if there are any tutorials or posts on the subject, but so far have found none, so I think I'll just have to go it solo on this one. When I have a moment to sew, that is.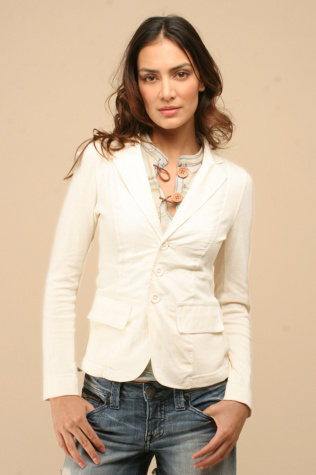 On the subject of new wardrobes, I found an interesting post on
Associated Content
about developing your personal style, and it got me thinking about some things to consider when building mine.
Obviously,

body shape

is important, and taking into account what you want to accentuate and what you want to hide. I have a fairly curvy body with a well-defined waist, so I like to wear fitted tops that go in at the waist. My waist is, however, fairly long, making my legs look proportionally short. Add to that the fact that I don't wear heels, and my legs can look pretty small, but if I wear items with a higher fitted waist and a wider skirt, it can make me look like I have legs up to my nipples. I also have sloping shoulders, which means I have to be careful with the necklines I wear and the shoulders of shirts and jackets.



Skin and hair

colours are also important. Now that I've cut all my hair off, I'm not against the idea of dying it, and I think a slightly deeper, richer, brown may be in order. My skin tone is definitely on the pink side (rather than the yellow side), making reds, purples and blues a better choice for me than yellows or oranges - I've always preferred wearing those colours anyhow.

Of course,

lifestyle

plays a role. Unfortunately for me, I currently have about 4 different wardrobes, and all of them are half-assed. I have my ratty, practical field work clothes, full of holes and stains. I have my work clothes, chosen because they were office appropriate, not necessarily because they looked good on me or were comfortable, so I don't wear most of them anywhere else. I have my jeans and roller derby T-shirts that have become my every-day wear, then I have some party dresses that I wear once in a blue moon. What I'd like to do is find some items that can be appropriate for several of these places. Jeans are good for field work and every day wear. The right dress can be worn one way at work, and another at a party.

I don't wear

make-up

. Some outfits might be great on my body, and be the perfect colour for my skin and hair, but would require some bold make-up to pull it off without my face being washed out. Generally, this means I have to go in the direction of simple, less bold and outrageous styles.

Also, here are a couple of random links for the day:

I have to make this knit Jack Russel from Best in Show.

And Good Life Eats has some tips on freezing cookie dough that I think we all can appreciate.