For those who don't know about
PAX
, PAX is 3 days of awesomeness put on by the creators of
Penny Arcade
twice annually (once in Seattle, once in Boston). It's focus is on gaming and the community and culture surrounding it. There is an exhibition hall where new video games can be tested before they are released. There are panels on gaming topics (a discussion of the 25th anniversary of the release of the
NES
, how to raise children in a gaming family, etc.). There are panels just for the hell of it (The
Wil Wheaton
hour and live
Dungeons and Dragons
, to name a few). I have a whole list of games I was introduced to that I have to play...
There are screenings of films, there are concerts, there are gaming tournaments, including the Omegathon – the final round of which marks the end of the convention. The game for this round is a total surprise, even to the participants, until the last moment. This year it was
the Claw
– you know, that frustrating game where you put your quarters in and try to pick up stuffed animals? They played it versus, live, on stage, in front of 2500 people. It was EPIC!
One of my favourite things about going to PAX is the
cosplay
. I don't usually go all out – mostly I just wear some form of interesting head gear. This year, I finally got another opportunity to wear my squid hat I made for
Cthulhupalooza
a couple of years back. This hat is a recreation of one I found at
Estee's House of
Fine Squid Hats
. They weren't being sold at the time, so I made my own. Since then, he has made a shop of it, and I totally recommend it, though there doesn't appear to be anything on Etsy at the time. These hats are awesome, and I have had requests to make them from many a friend.
While at the convention, I ran into another girl with a squid hat that her friend had made, and I couldn't resist a photo. So cute!
I didn't bring my good camera, and only got a handful of photos from PAX. Check them out on my Picasa Web Album
here
.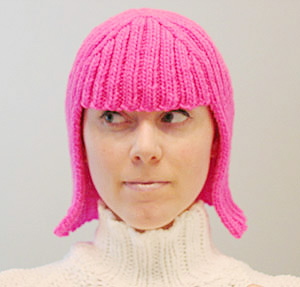 Another piece of headgear I wore (and sadly, forgot to get a picture of) was a knit wig I made using
this pattern from Knitty.com
. I had been dying to make a wig like this for ages, and finally got one finished while in Iqaluit in a deep red colour. The funny thing is that it's almost the same cut as my actual hair, but way creepier in knit form. My boyfriend said that it reminded him of Lego hair…
Tons of people dress up for the convention (like the
StarCraft
characters below. Too cool!), and I really admire them. REALLY. Those outfits have to be so uncomfortable, and they are constantly getting stopped for photos. Some of them I'm sure are paid by the makers of the game, but most of them are just adoring fans who really REALLY like cosplay. I love the dedication!